SOS: A local Charity Supporting Foster Children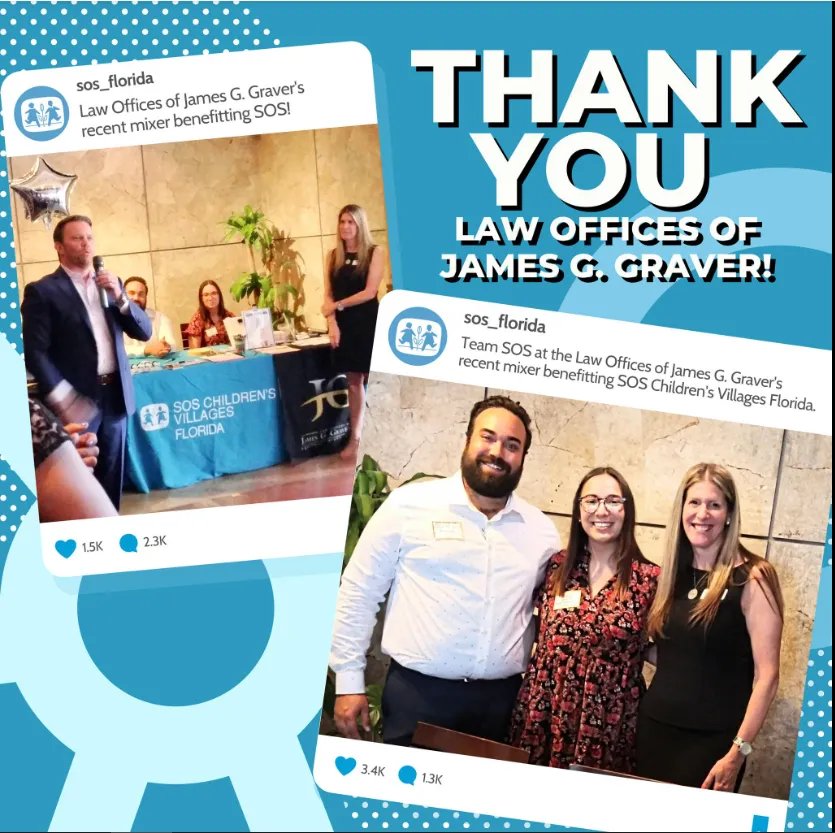 Law Offices of James G. Graver is proud to have started working with SOS Children's Villages of FL in 2022.
We first started showing our support earlier in the year when we helped sponsor a runner for their Steps for SOS 5k Run. All donations and contributions for this event went towards programs to help their older foster kids. These teenagers were in transition into adulthood and would be moving on at age eighteen; but not without some continued programs of help and guidance from SOS to ensure their success.
That's when we found out more about the wonderful things SOS does for the children whom they foster. Admittingly, we were all but taken by a rule they adhere to which includes never separating siblings; no matter how many there are.
And that's when we decided to make them our our charity of choice for our firm's Spring Mixer.
To date we have donated more than $1,200 to their cause. But we're just getting started! We're also looking forward to working again with them later this year.
About SOS Childrens Villages Florida
SOS Children's Villages Florida is a residential foster care community in Broward County. They care for children who have been abused or neglected; or whose parents are unable to provide them with the care they need.
They house up to seventy-two children as part of their residential program. They have thirteen single-family homes with full-time foster parents in Coconut Creek.
SOS on-site programs include mental health counseling, entertaining activities, educational tutoring, a mentoring program, and independent life skills classes.
Additionally, they offer support to 140 young adults who have aged out of foster care at 18.
Our Commitment to Community Work
Giving back to the community is important to our firm.
Whether we're buying girl scout cookies, serving at the soup kitchen or hosting charity events, we strive to stay involved.
Here are some of the charities, projects and/or events we've sponsored or been a part of in some way:
2021 Nurses Week Palm Beach Children's Hospital
2019 December Toy Drive for Soup Kitchen of Boynton Beach
2019 Legal Mixer Benefitting KidSafe
2019 Under the Sea Party for Palm Beach Children's Hospital
2018 Under the Sea Party for Palm Beach Children's Hospital
2018 Backpack Drive Palm Beach County
For more events and fun photos please visit our Community Involvement section of our website.
Law Offices of James G. Graver, P.A. Helping Those in Need
Helping our injured clients to the fullest capacity under the law is our number one priority. We seek justice for those who've been wronged and for those who are victims of negligence and/or violence. And that same passion we have for helping people extends outside our offices and into the community at large.
If you're interested in donating or volunteering at SOS Children's Villages FL, please see how you can help. To learn more, visit their ways to donate webpage.