The Law Offices of James G. Graver, P.A., represent Lake Worth motorcycle accident victims who have suffered injuries due to a careless driver's mistake. Our Lake Worth Motorcycle Accident Lawyers secure full support for riders so they have what they need to recover physically, emotionally, and financially.
We provide a free, no-obligation case consultation to all victims with serious injuries. Contact us to schedule a confidential case review. It's a chance to determine what your injury is worth and to find out how to hold car insurance companies fully liable.
Lake Worth Motorcycle Accident Dangers
Lake Worth motorcyclists know the usual hazards of traveling on busy routes like I-95 or even while enjoying the fresh air along Ocean Boulevard. It's always the other motorists on the road who present the most danger. Careless drivers can fail to look for a motorcycle in a blind spot when they merge onto a highway. They can turn in front of a rider they didn't take the time to notice coming right at them.
These and other mistakes by Lake Worth drivers put defenseless motorcyclists in hospitals on a weekly basis. Unfortunately, painful injuries aren't the only hazards motorcycle accident victims must watch out for. Car insurance companies often try to get away with blaming motorcyclists for an accident. They like to play on out-of-date stereotypes of "daredevil" riders to try to pin fault on motorcyclists in every collision.
These are weak arguments, but if car insurance adjusters can get away with blaming you for part or all of your accident, they'll avoid having to provide you and your family with the full support you'll need to recover. A skilled Lake Worth Motorcycle Accident Lawyer doesn't allow an insurance company to change the facts of an accident.
Common Causes of Lake Worth Motorcycle Accidents
Motorcyclists love the sunshine and the salt air around Lake Worth Beach. They find a lot of routes that are perfect for recreational rides. They may also depend on their motorcycles to get them to work on time.
In either case, riders must always be more wary of the reckless drivers around them than their own actions. Experienced riders will have lots of practice avoiding the mistakes of local drivers, but they can't always steer clear of a collision.
These are some of the common ways drivers force motorcyclists into accidents:
Lane Changes. Careless drivers can make lane changes with only glances at mirrors and blind spots. They can miss the presence of riders and make a frightening lane change or try to merge over onto a motorcyclist.
Rear-End Motorcycle Impacts. A distracted driver may not see a motorcyclist stopped at a red light up ahead. By the time the driver notices the stopped traffic, it's too late to avoid rear-ending an unprotected rider.
Nighttime Motorcycle Hazards. Drivers can be confused by the single headlight of a motorcycle after sundown. When they spend too little time looking in all directions, they can misjudge the distance of a motorcycle that's approaching. Drivers end up turning directly in front of the rider, thinking the motorcycle was further away.
Left-Turns in Front of Motorcyclists. Drivers ready to make left turns can get jumpy as they look for an opening in oncoming traffic. They might think the coast is clear, only to miss the smaller profile of a motorcycle. Motorcyclists may suddenly have a wall of metal in front of them, with too little time to brake or swerve to avoid the turning car.
Aggressive Driving. Road rage is a problem in Palm Beach County. Motorcyclists, who travel without four walls and seatbelts for protection, can be very vulnerable to an intentional attack using a car as a weapon or from someone getting out of a vehicle.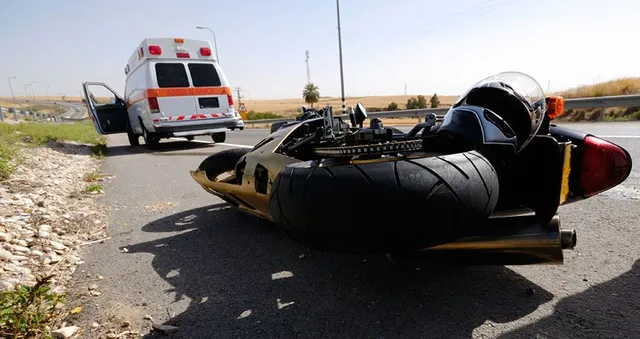 The Protection of a Lake Worth Beach Motorcycle Accident Attorney
These and other scary situations can send motorcyclists down on a road surface to suffer traumatic and life-threatening injuries. Car insurance companies should be first in line to help accident victims recover. Unfortunately, insurance adjusters often spend their time looking for ways to avoid paying compensation rather than providing assistance.
An auto insurer will blame an accident on you, despite what a collision report from a Palm Beach County Deputy or from the Florida Highway Patrol says. If it works, they can save thousands of dollars for their parent companies. Your representative from The Law Offices of James G. Graver, P.A., fights back against these tactics to make sure the blame stays with the at-fault driver.
Insurance Tactics Used on Florida Motorcycle Accident Victims
Insurance providers will try to cast doubt on the severity of your motorcycle accident injury. They could also suggest that you had the injury before you were struck by a car. Insurance adjusters may also delay offering you a settlement. They want you to become desperate as you watch bills arrive in the mailbox. Once you're desperate, you might accept a "lowball" settlement offer that doesn't cover all of your damages.
Your Lake Worth Motorcycle Accident Attorney is a safeguard from this unfair treatment. Your lawyer would fully investigate your accident and gather all evidence necessary to prevent an insurance company from wiggling out of liability. Your lawyer also keeps you from accepting less than what your injury and hardships are worth. A lowball settlement offer would be rejected and your lawyer would demand what's fair.
Compensation Available to Motorcycle Accident Victims
Your lawyer also begins to create a full list of every hardship you've endured in recovery. Each damage you include and back up with evidence will boost the value of your motorcycle accident settlement check.
Your lawyer makes sure every hardship is clearly laid out in your injury claim. Anything left off won't count toward the settlement money you are awarded and some bills would have to be paid out of your own pocket.
Your motorcycle accident lawyer will be asking for support for both economic damages and non-economic damages:
Economic Damages
Money to pay current hospital bills and those expected to arrive in the future.
Lifelong support for victims who suffer permanent disabilities.
Travel costs for doctor's appointments during a time when victims may be unable to drive. Patients could be in a cast or using a wheelchair.
Reimbursement for the paychecks victims lose while missing work during recovery.
Money to pay for motorcycle repairs or for a new motorcycle.
Non-Economic Damages
Support for the physical pain patients endure.
Support for the emotional trauma caused by a violent crash and a difficult recovery.
Support for a loss of enjoyment of life while dealing with traumatic injuries. Riders may not be able to get on a motorcycle for months.
Support for the loss of consortium. The loss of intimacy with a partner.
Frequently Asked Questions
How long do I have to file a motorcycle accident injury claim in Florida?
Four years. You have four years from the date of a motorcycle accident to file an injury claim. You should act as soon as possible, though, to allow your lawyer to secure evidence and surveillance video and track down witnesses.
What if I can't afford to pay a Lake Worth motorcycle accident attorney?
You can still secure quality legal representation. We take cases on a contingency basis, meaning that you pay nothing unless a recovery is made on your behalf. Then our fee comes out of the settlement money you receive.
Can I get motorcycle accident support after a collision caused by a hit-and-run driver?
Yes. If a hit-and-run driver escapes identification, you would file an accident claim with your own motorcycle insurance provider. Compensation would come from your uninsured motorist coverage.
Can I receive support after a family member is killed in a motorcycle accident by a careless driver?
Yes. Families are encouraged to file a wrongful death claim. This claim asks the at-fault driver's car insurer for help with funeral costs and hospital bills. The income the victim can no longer provide to family members must also factor into a settlement check.
Contact a Lake Worth Motorcycle Accident Lawyer
Our firm knows how difficult it can be to deal with car insurance companies after a motorcycle accident. Don't do it alone. Allow the Law Offices of James G. Graver, P.A., to fight on your behalf to earn the full amount of compensation available for your losses.
We are committed to working to make sure that you have all of the resources available so that you can fully recover from your injury or loss. Contact us today to schedule your free and confidential motorcycle accident case consultation.