The Law Offices of James G. Graver, P.A., represent Lake Worth, Florida area truck accident victims who have suffered injury. Our Lake Worth Truck Accident Lawyers secure full support for our clients from careless truck drivers who cause serious injuries. We also seek compensation from the truck driver's employer so victims have everything they need to make a full recovery.
We provide a free, no-obligation case consultation to all injured truck accident victims. Contact us to schedule a confidential case review. It's a chance to determine what your injury is worth and to find out how to hold commercial truck insurance companies fully liable.
Truck Accident Hazards in Lake Worth, Florida
Lake Worth motorists on busy routes like I-95 and U.S. 1 don't have to be reminded of the threat that large trucks and vans represent. Most drivers have probably seen a wide semi-truck or van swaying in and out of their lanes.
Motorists may have also nervously watched a fast-approaching semi-truck in the rearview mirror and wondered if that truck driver could stop if a traffic light suddenly turned red. Could that truck driver hit the brakes in time if a traffic jam suddenly appeared?
An accident involving a big rig with a heavy load or a full FedEx truck can do extreme damage to smaller vehicles like SUVs and motorcycles. The injuries to occupants and riders are often much more serious.
Victims and their families may need help forcing a driver and the company the driver works for to accept full responsibility for the consequences of a careless act. The Lake Worth Truck Accident Lawyers with The Law Offices of James G. Graver, P.A., rush to the aid of victims. We take on trucking corporations and their corporate lawyers to make sure our clients get the support they need to make a full recovery.
Common Truck Driver Dangers in Lake Worth
Most truck drivers do a great job of driving and strive to keep everyone around them as safe as possible. But at times, some truck drivers allow themselves to become distracted behind the wheel. They may look at a cell phone screen instead of the road ahead. They sometimes become reckless and travel too fast.
Truck drivers owe a legal "duty of care" to drive safely and to protect others using the road. Trucking companies and other employers are also bound to this "duty of care." When the duty is neglected and someone gets hurt, drivers, their employers, and their insurance companies are liable.
These are just a few of the types of negligence that lead to truck accidents:
Distracted Truck Drivers: Drivers can be texting at the wheel. They may be eating lunch and not watching the lanes. They may receive an update on a delivery route and forget to monitor where they are on the road and where other vehicles are.
Drowsy Truck Drivers: Truck drivers work long, hard hours and they often drive to the point of exhaustion. Trucking laws restrict how long truckers can continuously sit behind the wheel. Sometimes truck drivers push themselves over delivery deadline pressure and put everyone on an interstate at risk when they become drowsy.
DUI Truck Drivers: Drivers could resort to drugs to keep them alert and awake. This can impair their judgment and make them unsafe at the wheel. Truck drivers might also consume alcohol while on break or while they are driving. This can be a deadly choice when drivers are put in charge of such massive truck payloads.
Big Rig Speeding: Truck drivers might allow their semi-trucks to build speed. Large trucks need more time and space to come to a complete stop. Cars stopped for a red light are sometimes placed in jeopardy when an approaching truck driver is going too fast to stop before ramming vehicles from behind.
Mechanical Issues: Trucking companies are legally obligated to provide safe vehicles for truck drivers. Tires must be inspected and cared for. Brake pads and other safety measures must be checked regularly. Manufacturers must also recall trucks and truck parts if design flaws are found.
These and other collision hazards cause too many truck accidents in Lake Worth Beach and across Palm Beach County each year. Victims dealing with traumatic injuries after a truck accident must speak with a skilled Lake Worth Beach Truck Accident Lawyer, before talking to any insurance representative. You should know what your injury is worth before an insurance adjuster convinces you that it's worth very little or nothing at all.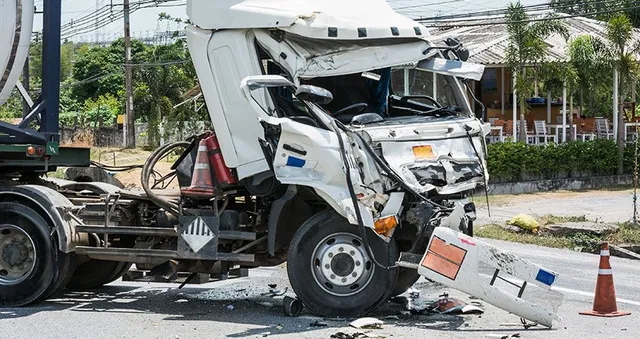 Who Is Responsible After a Lake Worth Truck Accident?
A truck accident involving a professional driver is different from a regular car crash. In a normal car crash, there's usually only one driver found at fault. That driver's car accident insurance provider is usually on the hook to pay for car damage and recovery bills.
But in an accident involving a produce truck or an Amazon van, that truck driver is on the road for an employer. So, in an accident, several parties could be responsible for providing support to victims. A Lake Worth Personal Injury Lawyer would identify all liable parties and hold each one fully accountable.
Truck drivers may work for themselves and carry their own commercial truck accident insurance. The driver may work for a company or corporation. The business would also have accident insurance covering employees. A trucking company could have to provide extra compensation if it's found they hired an unsafe driver without doing background checks. They are also liable after failing to provide safety training and mandated drug testing.
In some cases, the manufacturer of a truck or van is held fully responsible for an accident that a breakdown or a malfunction causes. A skilled lawyer seeks compensation from every guilty party. This gives victims the best chance to secure money to pay for every current medical bill and those expected in the years ahead.
What Types of Things Earn Compensation After a Lake Worth Truck Accident?
Your representative from The Law Offices of James G. Graver, P.A., will be demanding full truck accident compensation for every hardship you and your family have suffered through.
That includes receiving compensation for some things you may not have known could earn you more in a truck accident settlement check:
Current hospital bills and the cost of care expected to be needed in the future.
Lifelong support for victims who suffer permanent disabilities in a devastating truck accident.
Travel costs for doctor's appointments during a time when victims may be unable to drive. Patients could be in a cast or using a wheelchair and require the help of a shuttle service.
Support for the physical pain patients endure.
Support for the emotional trauma caused by a violent crash and a difficult recovery.
Support for a loss of enjoyment of life while dealing with traumatic injuries.
Support for the loss of consortium. The loss of intimacy with a partner.
Reimbursement for the paychecks victims lose while missing work during recovery.
Money to pay for car repairs or a new vehicle.
Wrongful Death Benefits. Families who have lost a loved one to a truck accident tragedy are encouraged to file a wrongful death claim. This civil claim seeks support to help with burial costs, ambulance fees, and hospital bills from before the victim passed away. Families must also seek help for the future for the replacement of job income the deceased can no longer provide each week.
Frequently Asked Questions
Will I have to go to court to get compensation for my truck accident injury?
Not in most cases. The vast majority of truck accident cases are settled out of court. Insurance companies don't like the expense of going before a judge and jury. They also don't want the bad publicity.
How long do I have to file a truck accident injury claim in Florida?
Four years. You have four years from the date of an accident to file an injury claim. You should act as soon as possible, though, to allow your lawyer to secure recent evidence and surveillance video and track down witnesses.
What if I can't afford to pay a Lake Worth truck accident attorney?
You can still secure quality legal representation. We take cases on a contingency basis, meaning that you pay nothing unless a recovery is made on your behalf. Then our fee comes out of the settlement money you receive.
Contact a Lake Worth Truck Accident Lawyer
Our firm knows how difficult it can be to deal with truck insurance companies and corporate lawyers after a truck accident. Don't do it alone. Allow the Law Offices of James G. Graver, P.A., to fight on your behalf to earn the full amount of compensation available for your losses.
We are committed to working to make sure that you have all of the resources available so that you can fully recover from your injury or loss. We will always work on a contingency basis and do not get paid unless you win.
Contact us today to schedule your free and confidential truck accident case consultation.