The Law Offices of James G. Graver, P.A., represents Lake Worth slip-and-fall accident victims who have suffered injuries due to a careless business owner or operator's mistake. Our Lake Worth Accident Lawyers secure full support for victims so they have what they need to recover physically, emotionally, and financially.
We provide a free, no-obligation case consultation to all victims with serious injuries. Contact us to schedule a confidential case review. It's a chance to determine what your slip-and-fall injury is worth and to find out how to hold car insurance companies fully liable.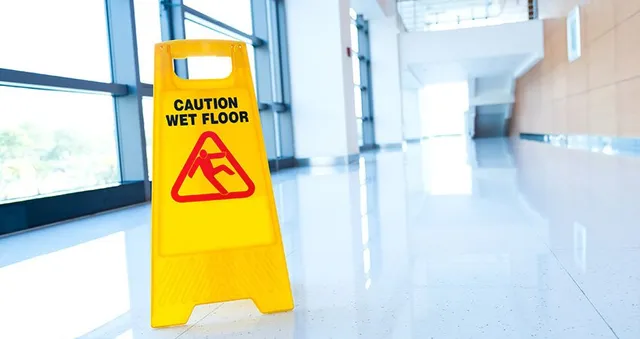 Should I Call a Lawyer After a Slip-And-Fall
A slip-and-fall on a puddle left out on a store aisle may leave you with some soreness, but otherwise unharmed. With minor injuries, you may not need the help of a lawyer if you decide to file an injury claim. If you aren't sure if your injuries make you eligible for compensation, you can always speak with a lawyer in a free consultation to be sure.
When injuries are more serious, such as a bone fracture or a major bump to the head, ambulance fees, emergency room bills, and further care can send the cost of care skyrocketing. Liability insurance providers begin to look for ways to avoid having to pay for your treatment.
They can try to pin the blame for a trip or a slip on you. They may claim your shoes were worn out or that you were just clumsy. These weak arguments will be shot down with evidence that your Lake Worth slip-and-fall lawyer will provide. Your lawyer fully investigates your case and then demands enough in support to pay every medical bill you have and replace your paychecks while you must miss work.
Lake Worth Slip-And-Fall Accident Dangers
Any time you enter someone's business, like a supermarket, or are walking on someone's property, like an apartment complex, your care must be provided for. Business owners and operators, property owners, landlords, and property management companies are all legally responsible for your safety from the parking lot all the way to the back bathrooms at a retail store like Walmart.
This falls under the legal duties of premises liability. Property owners must keep visitors, customers, clients, tenants, and others safe from slip-and-fall risks and other hazards. They must monitor store aisles and grounds for dangers that other visitors drop and remove them in a reasonable amount of time. Because if you or a loved one slips on some spilled ice cream or falls down a crumbling set of stairs, those business owners or corporate owners may be fully liable.
If you're hurt falling at a Lake Worth public building or in a city parking garage, the City of Lake Worth Beach could also be forced to help you pay for recovery. One of your attorney's most important tasks will be to identify who can be held responsible for your slip-and-fall or trip-and-fall and then make sure that party can't escape accountability.
What to Do After Suffering a Lake Worth Slip-And-Fall
After tripping on a pothole in a parking lot or a folded-up rug at the entrance to a restaurant, you may be down with a painful injury. You'll need to see to your safety first, but if you are able, it's important to get evidence of the hazard that caused you to fall.
An obstacle or hazard will likely be repaired or cleaned up once you leave or are carried away from the scene. That early evidence can be vitally important to your chances of holding an owner or operator fully liable.
If you are left strong enough, try to gather as many details as possible or ask someone with you to document the scene.
Call 911 If You Are Injured – Call 911 if you feel pain. Remember, the shock of an accident can mask a serious injury you may not fully notice until a day later. Go to the emergency room if necessary.
Get Out Your Phone and Get Photos – Get photographic evidence of the hazard that left you on the floor or pavement. Look for any warning signs or caution tape around or show the lack of warnings. Snap photos of any visible injuries.
Get a Manager – Make sure a manager or owner knows what happened. Let them write up an incident report.
Write Down Witness Contact Information — Get addresses and phone numbers for anyone who saw you fall or anyone who could attest to the hazard that existed.
Don't Say "I'm Alright" or "My Bad" – Your comments on the scene can be used against you later. You could indicate that you aren't hurt all that badly when in fact you have a hairline fracture or even head trauma. Don't comment on how badly you are hurt or who may be at fault in your fall.
Keep All Evidence – Don't throw out the shoes you had on when you fell. Stop wearing them until you speak with an attorney. Keep your receipts from that day of shopping. Keep all damaged clothing intact.
Schedule an Appointment with Your Physician – If you go to the emergency room or not, make sure your family doctor examines you later. You may wake up with pain from injuries you didn't realize you had on the day of the accident. Follow your doctor's recommendations on seeing specialists and attending physical therapy. You'll need to show insurance companies that you are doing everything you can to heal and recover.
Contact a Lake Worth Lawyer – The sooner a skilled attorney can get access to your case, the easier it will be to track down any other evidence your case needs. Your lawyer will get witness testimony from witnesses before they move away or become hard to reach. Your lawyer requests any surveillance video showing your accident before it gets erased. You also want a legal professional on your side when you must ask a major corporation like Publix for injury support. They have enough money to afford corporate lawyers who will be harassing you, hoping you'll sign off on a settlement offer that's much less than you'll need to fully recover.
How Much Is My Slip-And-Fall Accident Worth?
It's difficult to estimate how much you could earn on a slip-and-fall settlement check until an experienced lawyer can talk with you and examine your case.
Your settlement will depend on how bad your injury is and how long it will take you to recover. An injury that leads to a permanent disability could require support over a lifetime and that can mean a very large settlement would be the only thing acceptable for what you will go through.
These and other factors will also be considered when the size of your settlement check is determined:
Current hospital bills and the cost of care expected to be needed in the future.
Lifelong support for victims who suffer permanent disabilities in a devastating fall.
Travel costs for doctor's appointments during a time when victims may be unable to drive. Patients could be in a cast or using a wheelchair and require the help of a shuttle service.
Support for the physical pain patients endure.
Support for the emotional trauma caused by a frightening slip-and-fall. Help in coping with the depression and anxiety that can come with a difficult recovery and change in lifestyle.
Reimbursement for the paychecks victims lose while missing work during recovery.
Slip-and-fall accident wrongful death benefits. Victims, especially older patients, can be immobilized for some time after suffering a hip fracture or a leg injury. They may develop other health complications while being unable to walk and exercise. This can lead to life-threatening harm. Families must receive help paying for a burial service and leftover ambulance and hospital bills. They should also be supported in the future as they move forward without the guidance and financial support the victim would have continued to provide.
The negotiating skills of your lawyer. Your lawyer should be experienced in dealing with insurance adjusters and getting the most for your injury claim. Your lawyer should be able to identify "lowball" offers immediately and demand more.
Frequently Asked Questions
How long do I have to file a slip-and-fall accident injury claim in Florida?
Four years. You have four years from the date of an incident to file an injury claim. You should act as soon as possible, though, to allow your lawyer to secure evidence and surveillance video and track down witnesses.
Will I have to go to court to get compensation for a slip-and-fall injury?
Not usually. Most slip-and-fall cases are resolved through a settlement. Your lawyer represents the threat of a lawsuit and a trial, so insurance companies will work harder to make you happy with a settlement check rather than face the costs and embarrassment of a trial.
Can I Sue the City of Lake Worth for a Slip-And-Fall injury?
Yes. If you take a tumble at a government building, a public park, or anywhere owned and operated by the city, you can seek compensation. It's important to act quickly because there's usually a shorter deadline to file a claim against the government than with other cases.
Contact a Lake Worth Slip-And-Fall Lawyer
When you are injured in a slip or trip and fall accident, it is important to speak to a knowledgeable and experienced attorney who understands all of the legal responsibilities that a business owner has to its customers and guests. At the Law Offices of James G. Graver, P.A., our legal team has extensive experience litigating slip/trip and fall cases throughout South Florida. We know what it takes to build as strong of a case as possible.
Contact us to schedule a free, no-obligation consultation today. If we feel we can help you get considerably more for your injury and you decide to hire us, you won't need to bring any money with you. We don't get paid unless we win your case and then our fee is paid out of the settlement we earn for you.