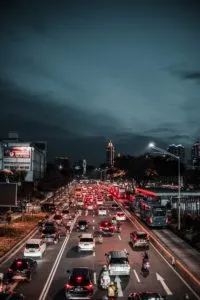 No one is thinking about being involved in a crash when calling for an Uber; or other ride share company.
After all, popular companies like Uber and Lyft often offer a high-quality service alternative for their customers. They are considered a viable solution to meet transportation needs "safely."
And, for many, it's a smart choice. Among other things, it is convenient to have an on-demand transportation mode you can track in live time and hire at the click of a finger.
But what happens if your hired driver crashes while you are a passenger in their vehicle?
With an increased popularity of these services, unfortunately, accidents are also on the rise.
It's important then to know what to do if you are a passenger in such a crash; including how to receive compensation for any losses or injuries sustained.
Immediately following a Crash
The emotional shock you experience immediately following a car accident may even keep you from thinking straight. But if you can remember to do the following checklist, it will certainly help you.
Call 911 for help and to report the accident
Check yourself, the driver and other passengers for potential injuries
Seek medical attention immediately when appropriate; See a doctor for a checkup within the first couple of days and let them know about the accident if it can wait.
Collect the insurance information of the driver and other drivers involved.
Take photos of the accident and all injuries if possible.
Collect the contact information of any and all witnesses.
Is the Ride Share Company Liable for your injuries and losses?
The short answer may look like a yes, but, in reality, it is more complicated than that. This is in part because the insurance is split between that of the driver and the ride share company's insurance.
In most cases, a driver's personal insurance denies the claim as the driver is what's considered "driving to hire." At that point, the ride share company would step in to make sure their customer is covered.
However, there are instances where the ride share company may deny the claim altogether.
They may do everything possible to try and get out of it if there are uninsured drivers involved; or if the driving app is off-line and comes into question.
Hiring a Personal Injury Attorney Specialized in a Ride Share Crash
if you were injured at the fault of your ride share company, contact a personal injury attorney as soon as possible; and protect your legal rights.
A competent attorney will build a strong claim on your behalf and make sure you are well compensated for your losses; to the highest degree of the law.
Select an experienced firm such as the Law Offices of James G. Graver, P.A ; whose legal team is experienced in settling ride share crash cases. Call them today for a free case evaluation via zoom, or in-person at their office; or they will come to you.