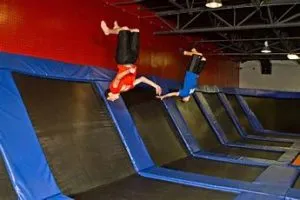 A recent six-year study concluded that most trampoline parks are unsafe by design.
So, what does this mean for liability waivers that participants are required to sign?
First, let's briefly look at a recent study by a university professor and biomechanical engineer:
Repeated incidents of trampoline park injuries across the nation prompted this engineer to go public citing design as the probable cause.
As recent as 2017, trampoline injuries accounted for nearly 18,000 emergency room visits leaving many wondering why?
Dr Pete Pidcoe, a Virginia engineer who spent years researching trampoline designs, says the ways they are bound together make for an unsafe transfer of energy. His research compared trampolines from trampoline parks to gymnastic trampolines.
"We found there is energy transferred between trampoline beds," Pidcoe said. "It's really one big trampoline."
The reason this is dangerous is because as he puts it: "the system is unpredictable."
"The trampoline surface is changing height. Have you ever stepped for a step that isn't there? Picture having that happen on a trampoline," he said.
Pidcoe went on to explain in detail how the force behind the energy transfer works. He cited a video of a 220lb dad double bouncing with his son, who as a result, broke his femur at a New Jersey trampoline park.
"What we notice is the father transferring into the son 400 lbs of force, but the bigger number is how fast that force is actually provided," he said. "It's like getting hit with a hammer."
A surgeon's experience in the severity of Trampoline Park injuries:
One surgeon from Utah, Dr. Craig Cook, has treated nearly 100 patients seriously injured at trampoline parks that have resulted in broken legs, head trauma and spinal fractures.
"These are the types of injuries that we'd see with high velocity type of trauma: [a] motor vehicle crash at 90 miles per hour that rolls, or an accident where a patient, a victim, is thrown off their motorcycle, and they fly 100 feet," Cook said.
Article/Full Source:
Liability Waivers:
Although trampoline parks have been found to be dangerous, in most instances, many (if not all) require participants to sign liability waivers.
Waivers are designed to protect trampoline park owners, because they attempt to reduce or completely eliminate their responsibility should individual(s) get hurt.
What you can do if you've been seriously injured at a trampoline park and signed a waiver:
"Under certain circumstances, some liability waivers have been found to be invalid by the courts," says attorney Graver. "For injured minors, waivers must contain certain language according to Florida law in order to be valid.
However, just because you've signed a waiver does not necessarily preclude you from filing a claim."