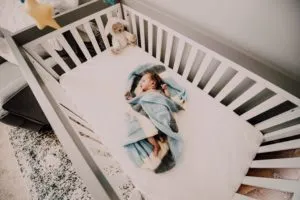 Parents relying on their baby monitors to prevent Sudden Infant Death Syndrome (SIDS) are being cautioned against its accuracy. According to new research published in The Journal of the American Medical Association, baby monitors used at home for vital sign readings are inconsistent at best.  
In a study administered by the Children's Hospital of Philadelphia (CHOP), two companies with seemingly identical products were tested for accuracy. Both monitors, one by Owlet Smart Sock and the other by Baby Vida, used oximetry to monitor oxygen in the blood as well as the heart rate of babies.  
But their results were not even close, according to the study's researcher and pediatrician Dr. Christafer P. Bonafide, who told "Good Morning America" he was "pretty shocked."
Dr. Bonafide used the monitors on 30 infants ages 0-6 six months, who were hospitalized in cardiology wards and general pediatrics at CHOP.
"Parents are buying these not just to tell them when things are OK, but to tell them when something is wrong," Bonafide said. "What we're showing is how these monitors are failing them to some degree."
The Owlet Smart Sock 2, priced online at $299.99, performed "fairly well" in the study despite inconsistencies when compared to a hospital grade monitor. Bonafide found it more favorable than the Baby Vida in terms of measuring oxygen in the blood, though at times the unit reported low levels which were in fact normal.
Alternately, Baby Vida, failed to accurately read both heart rate and oxygen saturation. In many instances, the monitor would indicate that heart rates were abnormally low when they were completely normal.
Bonafide said this could cause many unnecessary ER trips for parents relying on these readings as accurate. However, in terms of oxygen saturation, the monitor suggested the opposite–indicating that the baby's oxygen levels were totally normal, when in fact, they were dangerously low.
Neither the Owlet Smart Sock 2 or Baby Vida have been approved by the Food and Drug Administration (FDA) to prevent Sudden Infant Death Syndrome. In fact, as stated on that agency's website, the FDA has not cleared or approved any baby product whatsoever to prevent or reduce the risk of SIDS.
In addition, the American Academy of Pediatrics (AAP) advises against using home baby monitors like these, as well as   other devices that may be marketed to reduce the risk of SIDS.  
Bonafide concluded that parents who purchase one of these devices should at the very least have a plan in place with their pediatrician.
"Alarms will go off," Bonafide explained. "Those could be false alarms, they could be true alarms. It's important to have a conversation with the pediatrician to decide what to do when the alarms do go off."
Photo: Courtesy of Pexels