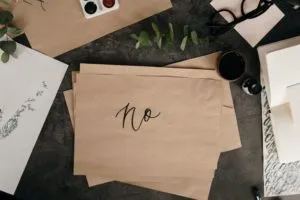 After a painful incident such as a crash, you may be left wondering why a personal injury attorney might say "No" to your case. Especially, if you are not at fault.
Yet, law firms turn down cases for a variety of reasons all of the time.
In fact, it can even happen if you have what might look like a good case.
So, how is it that you can be sure?
First, you will want to contact a personal injury attorney no matter. A reputable law firm will always offer the injured a free consultation with one of their attorneys.
However, below are a few reasons why a case might be turned down; Or instead, referred to another firm for further evaluation.
Statute of Limitations
As per the law, there are hard deadlines that must be met in order to file a claim. This is referred to as the statute of limitations , and once it's past, your claim would no longer be valid.
So how can you be sure you are within the limits of time?
After you seek medical attention and just as soon as you are able to, contact a qualified attorney.
When a Conflict of Interest leads to a No.
Conflicts of interest among attorneys can arise quite easily. Perhaps the attorney you've consulted has another pending case with the same company that is potentially responsible for your injury. In such a circumstance, they would not be able to represent both parties.
What do you do if this happens?
You move on to another firm as soon as you can. The good news here is that being turned down most likely had nothing to do with your case.
Not the Attorney's Expertise
Even where personal injury attorneys are concerned, some are more specialized than others in certain areas. For example, defective products, sexual abuse and medical malpractice cases all fall under the same umbrella but are all quite different. Not every personal injury attorney is qualified or has sufficient experience in every area of the law.
And while some attorneys are exclusive to personal injury cases, others practice a different area of the law such as divorce; and then take a few select personal injury cases as well.
There are Minimal to No Damages
For example, if a victim is barely injured or does not want to seek medical treatment, it is hard to seek damages on an insurance claim. An insurance company would likely not value the case enough to offer or agree to a settlement, no matter how nominal.
And since all personal injury attorneys work on a contingency, this means they end up paying all the costs on a case that does not settle.
Consequently, most attorneys truly want to help every client fight for justice. But the truth is that they must make a living as well; and sometimes end up turning down cases such as these.
Best Advice when seeking Legal Representation
First off, do not ever assume that you do not have a case.
Even if your injuries or damages were minor, you will benefit from speaking to an attorney first. Not only is it free, but you will likely gain valuable information that will help you no matter; even if you do not have a case.
Furthermore, selecting a law firm that exclusively handles personal injury cases is beneficial. Some attorneys are experts in helping the injured. At the Law Offices of James G. Graver , personal injury cases are their expertise; it's all they do. They will also go to great lengths to help you in any way they can. Call them today for a free case evaluation.