Here's what happens if you were hit and hurt without lights on, failing to obey Florida bicyclists laws.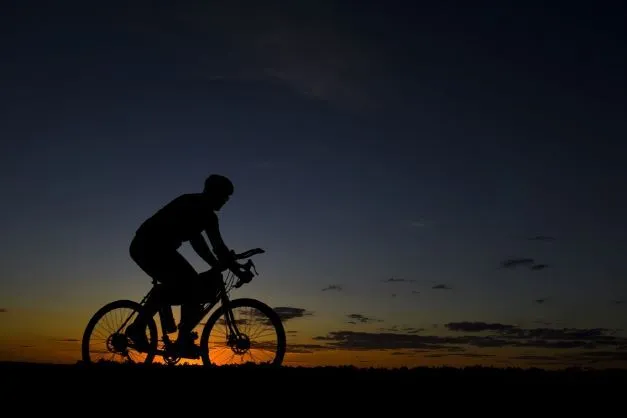 Bicyclists are rightfully concerned with being seen in the dark.
Many take extra measures in staying visible while riding in traffic. Some even wear reflective clothing, though it is not a state requirement.
However, what happens if a bike light malfunctions or is not turned on at the time of an accident?
Who would be held accountable?  And how would it affect the victim of a bicyclist accident?
These are questions that bicyclist victims are often confronted with after an accident.
Consequently, one of the biggest questions might come pertaining to dusk or night riding.
After all, most recent studies find that night poses the greatest risk to bicyclists.
But each state varies on bicyclist enforced laws whether pertaining to day or night riding.
So, does Florida require bicyclists to ride with lights on in the dark?
Yes, Florida law requires all bicyclists to have lights on from sunset to sunrise.
State Safety and Gear light requirements include:
A front light visible from 500 feet
A Reflector Light visible from 600 feet
A Red Light in back visible from 600 feet
Can you still be compensated after a night accident if you rode without lights?
Yes! Injured bicycle accident victims can still file a claim for compensation.
Florida follows the comparative negligence rule. This means that injured accident victims can recover compensation even if they share the blame.
When this happens, the court determines the percentage of fault.
For example, let's say you leave a friend's home in the dark and bike home. If you fail to turn on your lights and get hit, you are partly at fault. For your injuries would have been arguably less severe had you had your lights on before the accident occurred.
So, while you may be entitled to compensation, you might be entitled to less of an amount than normal. This will depend on the amount of comparative negligence placed on the bicyclist.
Should you contact a Florida personal injury attorney for advice?
Yes! It's important to explore your legal options after a bicycling accident.
There may be more to the incident than you are aware of. This makes it more difficult then to deal with insurance companies. It puts the victim at a disadvantage.
And worse, a bicycle accident can leave you with long term injuries and extensive care you may not be able to afford.
A personal attorney will help. But you will want to contact one with expertise in bicycling accidents.
Learn more about your legal options by contacting an expert bicyclist accident attorney. Simply put, at the Law Offices of James. G. Graver, P.A., you matter. You will receive individualized attention and expert legal service.
Mr. Graver has more than twenty years of experience with pedestrian and bicycling accidents. He has a proven record and will fight for your rights. Consultations are always free.
Call the bicycle accident experts today for a free case evaluation at 888-GRAVER-3 or 561-228-7820.