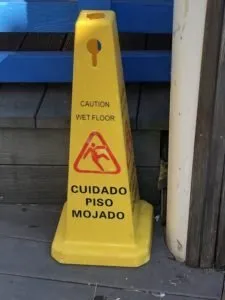 If you slip and fall on someone else's property, you might not be thinking about a checklist. However, if you were injured and they are at fault, you will need to prove it.
This holds especially true if the fall was attributed to dangerous conditions such as torn carpeting or wet floors causing you to have an accident.
Unfortunately, falls can happen anywhere and even result in death. That's why the Florida Department of Health puts forth statistics and charts to ensure public safety and bring awareness. However, not everyone adheres to taking precautions, making some individuals, facilities and/or places of business negligent.
Yet in order to make a recovery for monetary damages resulting from a slip and fall accident, someone must be proven at fault.
Report the Fall to Management
It is important to tell the management of the facility where you fell down what happened and report your injuries.
If you fill out an incident report, be sure to get a copy. There needs to be documentation that the accident happened, or else it may be questioned later on. This is most important should you pursue legal action and they question why it was never reported.
Seek Immediate medical attention after a slip and fall injury
First and foremost, it is important to seek medical attention immediately if you are injured from a slip and fall.
And if it is severe and considered an emergency, then you'll want to be seen at the closest emergency room.
Otherwise, make a timely appointment to go see a doctor within the first 24-48 hours to be checked and treated for your injuries.
Be sure to give medical personnel all the detailed information on how it happened and to follow your doctor's treatment plan. This means you may need to go back for follow-up appointments, if advised to do so.
It is not advisable to skip an appointment or fail to go back at all. Unfortunately, insurance companies will likely not take your injury seriously as a result, or assume that you have fully healed; even if you have not.
Get Contact Information for All Witnesses
Be sure to get the contact information (e-mail addresses and phone numbers) of any witnesses, including anyone who may have stopped to help.
Having one or more witnesses may later be helpful in proving your case.
If you are with a friend, ask them to help you gather this information. It can be crucial later to have eyewitness testimony, if needed.
Photo Document your Injuries and the Scene.
Just taking one or more photos of the injuries sustained, and the area where you fell, will be most helpful to have for future reference.
If you have a camera phone on you, take photos before you leave.
You will want to take a photo of your injuries as soon as you or someone you are with is able to. You can even ask a witness to take a picture for you if you feel comfortable doing so.
The important thing is to not leave the scene without a few photos documenting what happened.
And if you fell hard enough to bleed and bruise, it should be documented in a photo before all is wiped clean and the bruising fades.
However, you will still need to do one last thing to complete your checklist after a slip and fall.
Consult a Slip and Fall Attorney at No Charge
Speaking to a personal injury attorney should be free and easy to do. If you were injured through no fault of your own on someone else's property, you will want to do this.
It is typically not easy to prove liability in a slip and fall case. An attorney who specializes in premises liability for slip and fall accidents will be able to discuss and evaluate your case.
You will want to call a firm with highly experienced injury attorneys such as the Law Offices of James G. Graver, P.A. Our expert legal team is always there to help you, the injured, and you will be able to speak directly with an attorney, at no charge to you. In fact, no fees are ever collected until we win your case.