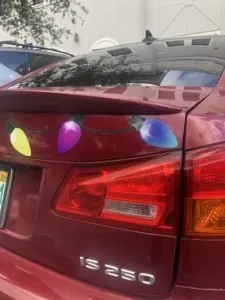 The 2020 holiday travel season may look a bit different this year due to Covid-19. For, travel may not be a feasible option for those following CDC guidelines and social distancing.
Yet, not everyone will choose or be able to stay home. Therefore, holiday safety remains of concern.
Consequently, last December, an estimated 115 people lost their lives during the holidays according to Injury Facts.
And, while some may avoid crowded airports and other modes of transit due to Covid-19, others choosing to drive for safety reasons will need to be careful as well.  Although, travel by car may seem safer, it will require preparation. This is because fatality rates are at their highest travelling by car during any given holiday.
So, should you decide to venture out, whether driving near or far, you will want to remain cautious and well prepared.
Below are a few reminders   to help promote a safer holiday season should you decide to travel by car.
Check your car before you travel.
Check Your Car–make sure your vehicle has been checked and maintained in good condition before hitting the roads. This is especially important for any drivers leaving the state of Florida and headed into winter weather conditions.
Designate a sober driver ahead of time.
About one-third of all reported fatalities involved alcohol.
Along with celebrations comes a rise in alcohol consumption. It's important then to appoint a sober driver before you stop to celebrate in any way that may impair your driving.
Make sure to use seat belt restraints.
 Studies show seatbelts are 45% effective in preventing fatalities when used. So, this is important for both drivers and all passengers to know.
Look to see if everyone is buckled in before leaving; it could literally save a life.
Decide to leave early to compensate for delays and holiday traffic.
Give yourself plenty of time instead of trying to beat the clock.
Avoid distracted driving
Put your cell phone into driving mode or turn it off; Thousands have died in crashes involving cell phone use.
Use caution when using new technology dashboards and hands free devices; they are still considered a distraction.
Prevent Drowsy Driving
  Avoid fatigue by getting plenty of rest before you get behind the wheel of your vehicle.
Be aware that you are three times more likely to be involved in a crash if you are fatigued
Fact: Driving after going more than 20 hours without sleep equates a blood-alcohol concentration of 0.08% – the U.S. legal limit
Being alert and prepared just may save a life this season. However, if you do run into trouble this holiday, and are injured through no fault of your own, be sure to contact a personal injury attorney.