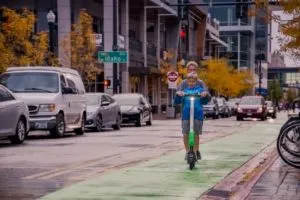 The inevitable happened on a busy Fort Lauderdale road—a person riding an electric scooter crashed with a car and died.
This is one of several serious injury accident cases —but the first death in the county–linked to e-scooter crashes, according to the Broward Medical Examiner's Office.
Last November, the City of Fort Lauderdale contracted with four companies—Bird, Bolt, Gotcha and Lime—to make an estimated 1,700 scooters available for consumer use.
Scooters have become the latest craze
In South Florida and across the nation, scooter use is on the rise. They are great on gas, fun and easy to rent at the swipe of an app.
But as they have gained in popularity, there have been numerous reports of injuries; even leaving some victims in comas. Yet, up until last Thursday, taking a joy ride on this new "in" thing (both for tourists and residents alike) was dangerous enough, but not deadly.
Police spokeswoman Casey Liening said on Friday that the driver of the car in this deadly accident stayed at the scene and no charges were expected to be filed. "The scooter was in the roadway when it was struck by the vehicle," Liening said.
According to the City of Fort Lauderdale, "dockless scooters are authorized for use on sidewalks." The city's ordinance prohibits riders from operating the dockless rental scooters on the street.
However, according to a court document filed last December, the victim of yet another scooter crash—one who had to have part of their skull removed—was also driving on the street and following the guidelines of the scooter company, not the city.
While the City decided not to ban scooters, apart from numerous accidents resulting in serious injuries, there have been growing concerns and complaints ranging from underage drivers to riders venturing into traffic.
Liening said the unidentified man who collided with a Mazda 6 sedan on Federal Highway last Thursday was riding a Lime electric scooter. Fort Lauderdale Fire Rescue paramedics transported the injured man to Broward Health Medical Center, where he was pronounced dead.
It is believed the man had been with a group of friends riding scooters when the crash occurred. "It's unclear if [his friends] were also in the roadway."
Know your Legal Rights
If you or a loved one you know were hit and seriously injured through no fault of your own on a scooter, moped or other electric vehicle, protect your rights and consult an experienced personal injury attorney as soon as possible.