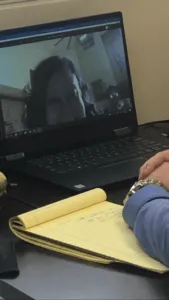 Covid-19 took the world by surprise, and law firms across the globe were no exception.
Consequently, the legal industry, considered essential, was exempt from the general closure order for our state.
However, not all firms were prepared to deal with a pandemic overnight.
So how is our firm navigating through this new reality?
Our firm was founded on the very principle of positive change in order to serve our clients successfully with individualized attention.
So, what are we doing differently during these times?
ALL EMPLOYEES ARE WORKING REMOTELY FROM HOME
Fortunately, we already had the technology in place to effectively transition from bricks and mortar; Thus, allowing our staff to work remotely, while still accommodating all of our clients and business partners safely.
We see and speak to our employees daily in live time, and conduct business meetings through services such as Zoom.
VIDEO CONFERENCING WITH THE COURTS
Court proceedings are now attended to through video conference to take the place of in-person proceedings.
DOCTORS OFFICES FOLLOWING CDC GUIDELINES
We work with doctors who follow CDC guidelines to ensure our clients are protected.
While for some of our clients rescheduling appointments may be an option, for others, it is not.
For those who have been injured recently, we can make sure they are seen in accordance to the 14-Day PIP LAW ; and by a medical professional following CDC guidelines.
However, some things still remain the same, such as:
ONGOING FOLLOW-UP AND COMMUNICATION
We maintain in constant communication with insurance companies, doctors' offices and clients via telephone, video conferencing, and emails.
And our clients continue to have direct access to their attorney through a direct cell phone line.
A COMMITMENT TO EXCELLENCE
Ensuring our clients maximize on our expert legal advice and individualized attention, remains our goal.
No one knows with certainty how long this could last or if COVID-19 will cycle and repeat. However, you can rest assured that we will continue to work diligently on your behalf and defend your rights.
We are committed to your safety and well-being, and we know we will all get through this trying time together.
If you have been injured through no fault of your own and would like a free consultation regarding your legal rights, please call the Law Offices of James G. Graver, P.A. at 1-888-472-8373.