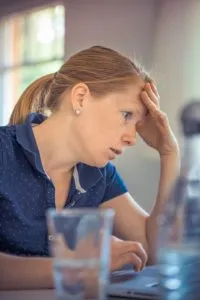 Florida law known as the PIP 14-day rule might prevent you from making a recovery on your accident claim; if not properly followed.
This law requires that any injured victims seek medical attention within the first two weeks following a traffic accident. Otherwise, you could lose your rights to recover significant medical benefits.
It is important to be seen by a medical examiner within 14 days of an accident. This will ensure that any related injuries will be treated and documented in a timely manner; even those that may take hours or days to appear.
Consequently, insurance companies know this. Failure to comply, gives your insurer the right to deny any subsequent claims for medical benefits that you might submit in the future.
WHAT QUALIFIES AS MEDICAL CARE
It's usually not a good idea to refuse medical care following a crash.
However, if you do, be aware that seeking an examination in the future from a non-medical doctor may not qualify you to receive PIP benefits. This applies even if you've been injured.
"Initial services and care" must come from a licensed physician approved by the applicable law.
To name a few, this includes:
A medical doctor such as a family doctor or internist
A chiropractor
A dentist
What it does not include is being evaluated by a massage therapist, or any type of therapist or medical provider not specifically listed under this law. Therefore, an initial evaluation to determine if you are healthy or injured needs to come from what the law lists as acceptable.
PAYOUT ON THE 14-DAY RULE POLICY LIMITS
If you are injured and comply with the 14 day rule, you could be entitled to up to $10,000 in medical and disability benefits to put towards your emergency services, doctors' visits, tests performed, and rehabilitation costs.
This is the state required minimum, however, it is possible that you may be insured for a larger policy.
REASONS FOR THE 14-DAY RULE
Primarily, this rule exists to help insurance companies avoid insurance fraud.
However, it also serves to protect car accident victims who need to seek immediate medical treatment and may not have health insurance (or want to go through their private carrier to do so.)
Furthermore, encouraging victims to seek prompt and proper medical attention may help their bodies heal faster and lessen any physical damage caused by their car accident.
HIRE A PERSONAL INJURY ATTORNEY
In order to navigate through the laws and know your rights, it is important to seek legal representation. A personal injury attorney will also serve to keep insurance companies in check and monitor all of the paperwork and fine-print so you don't have to.