Drivers Beware: Back-To-School Means Sharing Roads and Brings a Need to Slow Down and be Vigilant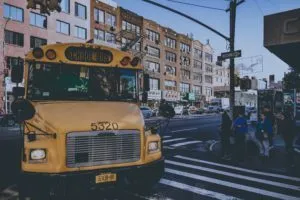 For many, summertime means slower days–more vacations, less traffic, and no school!
And while kids and parents alike are spending their final summer days preparing for fall by going back-to-school shopping, all drivers will want to prepare for the new 2019 school season ahead as well.
For once school is in session, roadways will become more congested and challenging.
The new scholastic year means sharing roads with school buses, as well as young pedestrians on foot or on bike.
August is designated as Back-to-School Safety Month.
So, what does this mean for drivers?
At a minimum, vigilance and awareness will be needed to keep our roadways safe for all. However, whether you are driving your own children to school or driving past school zones, you will want to remember the safety tips mentioned below.
Here are some tips on how to drive safely through the congestion the school season brings.
Drivers :
-Always keep a safe distance and be on the lookout for pedestrians and cyclists.
-Most (if not all) school zones have crossing guards to help keep everyone safely reach their destination. Make sure to slow down and stop when signaled to do so.
-Watch for children on and near roads especially during the morning and after school hours.
-Take your time and scan for children on medians, curbs and/or intersections.
Cyclists :
Children, sometimes accompanied by adults, bike to school. All should be wearing helmets, riding on the right-hand side of the road & going in the same direction of traffic. But it's important to remember that's not always the case, so be prepared.
-Leave at least 3 feet between your vehicle and cyclists when passing.
-Wait for approaching cyclists going in the opposite direction to pass you before turning left.
-If turning right and an approaching cyclist is behind you on the right, wait for the rider to pass the intersection first and always use turn signals.
-Be sure to watch for bikes travelling in school zones, but also those coming from behind parked cars and/or driveways.
-Look to your rear mirrors before opening the door of your parked or stationary car.
Pedestrians :
It's important for all pedestrians to walk in designated crosswalks and use sidewalks whenever possible. But drivers need to be prepared for those who might not comply.
-Drivers take care to look for children not just in school zones, but also walking to and from their home in nearby parks, playgrounds and residental zones.
-Do not block the crosswalk when stopped at a light or waiting to turn or it may force pedestrians around you and into traffic.
-Never pass a vehicle stopped for pedestrians.
-Always stop for a school patrol officer or guard holding up a sign.
Bus Safety :
All motorists are required to stop for a school bus. It is illegal in all 50 states for a vehicle to pass a bus that has stopped to load or unload children.
-Never pass a school bus from behind or otherwise that is stopped to load and unload its passengers
-Stay alert as children exiting or entering the bus can be unpredictable
-Always stop for a bus with flashing yellow or red lights and the stop extended arm open.
-Stop far enough away to allow enough safe space around children; more than 10 feet is recommended if possible.
What do you do if you become injured?
In the event that you or your child become injured going to or from school, it is important that you seek immediate medical attention. If the injury that was sustained was through no fault of your own, you may be entitled to financial compensation for your pain and suffering.
As soon as you are able to, contact an experienced law firm such as the personal injury experts at the Law Offices of James G. Graver, P.A. for a free and confidential consultation. They will help you  navigate through the legal system so that you and/or your child can focus on your healing.